Creative Chief and Social Media Officer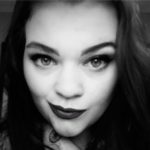 Sarah is a graduate from Virginia Marti College of Art and Design where she obtained her Associates of Applied Business Degree in Graphic Design. She began working with Miracle Resources as well as Katherine Miracle in July of 2013; she was quickly hired on as a part time team member shortly after her internship.
Sarah works at Miracle Resources as the Creative Chief and Social Media Officer, she manages all Graphic Design, Web Design, Social Media and Print Collateral at the company. Working along side the founder, Katherine Miracle they are a dynamic and strong team, often bouncing ideas off one another. Sarah is known for being very adaptive to new challenges and enjoys every challenge dealt her way.
Sarah specializes in Graphic Design services that provide a great experience for brands that are looking to build their services from the inside out, as well as clients looking to put a pep in their brands' step. She is an innovator who dedicates all time needed to finish a project.
While working at Miracle Resources Sarah does have her own independent Graphic Designs services. She specializes in creating a positive, comfortable experience for all customers. Sarah also currently works at PureButtons and StandOut Stickers in the Art Department and blogs in her spare time.