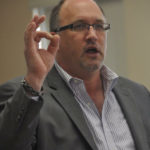 Dr. P is a dynamic, motivating and challenging leader with his passion in community service, education, mastery learning, music and leadership. His educational background is as diverse reflecting his passions, which includes an undergraduate degree from the University of Pennsylvania – Mansfield in theory and composition: where he was inducted to the Society of Distinguished alumni and educators (1 of 26 individuals recognized for this honor in the history of the university), a master's in performance from the Boston Conservatory, a doctorate from the University of Kentucky in educational policy studies and evaluation and additional studies at Harvard University, specifically related to leadership in higher education.
Dr. P's entire career has been dedicated to education and specifically higher education. At the age of 22 he began his career as an administrator with the State University of New York at Oswego, while also serving as an adjunct professor and a member of the faculty brass quintet. During this period he entrepreneurially instituted two college fitness centers and served as a judicial hearing officer. While serving as the associate director of administration at the University of Kentucky, he also taught in the College of Education, served as a research specialist for the graduate school and was a three time nominee for the Chancellor's Award for Excellence. In 1994, he assumed the duties as Dean of Academic Affairs for Sullivan University in Kentucky and was later promoted to Executive Director; it was during his time that the University became the largest private college in the Commonwealth.
He has served and continues to serve on numerous community, state, regional, national boards and organizations in various leadership capacities. These include the Wesley Academy Board of Directors, Past President of the College Personnel Association of Kentucky, Chair of Research for ACUHO – I, State Coordinator for the National Association of Student Personnel Administrators, Association for the Study of Higher Education, Chair of the Music Commission for the National United Choirs, Former Board member of the Colorado Private School Association, Past president of the Ohio Career College Association board, chair of the Ohio legislative scholarship committee and an evaluator and member of the intermediate review commission for the Accrediting Council for Independent Colleges and Schools. He has authored several publications including the Use of Retrospective Data for Institutional Evaluation, specifically related to student retention, though Jossey-Bass and have presented numerous topics on higher education to various groups throughout the United States.
Dr. P can help connect the critical links of development, branding, outcomes, developing a thriving culture and results.